Things are just not hot enough for us in NYC this summer so Schwervon! is happy to announce that we will be taking a little trip down south to record with legendary sound engineer/ producer Doug Easley (Sonic Youth, Pavement, Jon Spencer Blues Explosion) in Memphis, Tennessee. We've decided to play some shows on our way down there and back.


SCHWERVON! SOUTHERN FRIED SUMMER FUN TOUR
Aug. 17 - Danger Danger Gallery (Philadelphia, PA) w/ No One and The Somebodies, Ghost/Light, & Caboder
Aug. 18 - Charm City Art Space (Baltimore, MD) w/ strange fur, south carey
Aug. 19 - Bazaar Consignment (Roanoke, VA) w/ Uncle Bengine & the Restraining Orders, Elephant Child
Aug. 20 - The Lab (Asheville, NC) w/ Her (ruined majesty), The Ringing Cedars
Aug. 22 - The Hi-Tone Cafe (Memphis, TN) w/ The New Mary Jane (ex Grifters, Those Bastard Souls)
Aug. 25 - Cafe Cocoa (Nashville, TN) w/ Chicken Little
Aug. 26 - Acoustic Coffee House (Johnson City, TN)
Aug. 27 - Back Yard House Show (115 East Maynard Ave, Durham, NC) 4-9pm w/ Wigg Report, Joy In Red, Charles Latham, & Sequoya
Aug. 29 - Galaxy Hut (Arlington, VA) w/ Greenland
-------------
I just discovered this All Ages Movement organization and it looks pretty cool. I did a little blog. about it on the OJ site. Looking forward to reading the book.
-------------
Here's what we're doing August 12th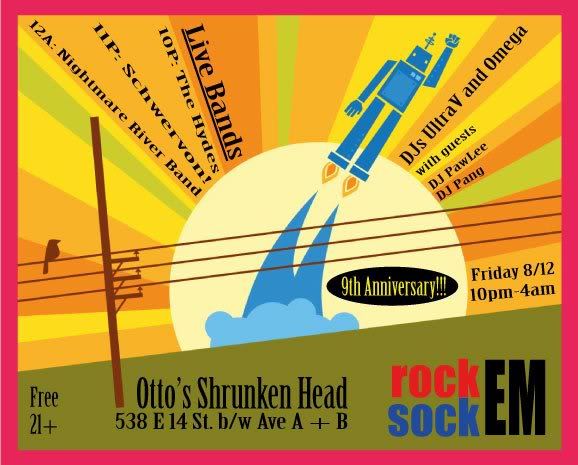 www.facebook.com/event.php
-------------
I'm playing electric guitar with Prewar Yardsale tonight at Lit Lounge to celebrate a new video for our friends Crazy and the Brains. Here's how the night is shaping up.
www.facebook.com/event.php
free cake ( for eating and throwing ) live music boozez flipping out!
***Saturday July 30
Doors 8:30 pm
Prewar Yardsale 9 pm
Video screening 10 pm
Crazy & The Brains 10:15pm
Lit Lounge - 93 2nd Ave # A,
New York, NY 10003-8352
(212) 777 7987 Subway: Astor Pl
-------------


A

nd if by any slight chance you haven't gotten enough of me this weekend I'm playing a short Major Matt set at Goodbye Blue Monday for Joe Crow's BBQ thing from 5-9pm tomorrow Sunday evening in the back yard. I haven't been told exactly when I'm playing but it will be in the later part of the evening after 7 pm. Other performers will include Emily Einhorn, Brooke McGowan, Kung Fu Crimewave, Mike Baglivi and much more!! It's free!